new item in online store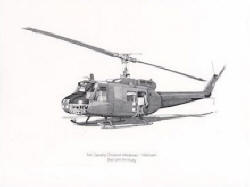 Beautiful stippled limited edition print of the Bell UH-1H Huey, 1st Cavalry Division Medevac, Vietnam, measuring 16" x 20" and is printed on archival quality 80# coverstock. This is not a DUSTOFF - has M-60 mounted in the hell hole. It comes with its own certificate of authenticity signed and numbered by Thomas M. Maloney. (Read More)
PAWS for Veterans Therapy Act
The long awaited legislation that will positively impact veterans with post-traumatic stress disorder (PTSD) was signed into law by President Biden.
The act allows the Department of Veterans Affairs (VA) to provide service dogs and provisions for their care to assist veterans with PTSD. According to the VA Suicide Prevention Annual Report, nearly 18 service members take their own lives each day as a result of these internal scars.
The VA provided service dogs in a four-year study on the efficacy of trained service dogs for PTSD. A total of 59 service dogs and 40 emotional support dogs were placed with study veterans. The results were staggering - veterans paired with service dogs showed less suicidal ideation and more improvement in mental health than those paired with emotional support dogs.
The VA now has the authority to use trained service dogs as a treatment option for veterans with PTSD – an option that was not available despite the profound results of the previous study.
The act will allow veterans with PTSD and other mental health diagnoses to be eligible for VA service dog veterinary insurance benefits, which also covers equipment and travel expenses associated with service dog ownership.
For service members relying on a task-trained service dogs for PTSD, H.R. 1448 is a giant leap towards supporting veterans and their service dogs in an equitable way.
new unit t-shirts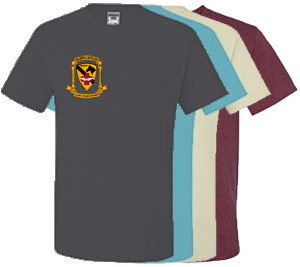 The votes are in and the ballots are checked for hanging chads. All y'all voted for charcoal, scuba blue, sandstone, and vintage heather maroon. These Easy Care 50/50 poly/cotton blend, wrinkle-resistant t-shirts come with your choice of color, crest, and with or without a pocket on left front. Right front crest comes in three options; stenciled crest options are Medevac crest with 15th Medical Battalion border, Medevac crest, or 15th Medical Battalion crest with 15th Medical Battalion border. The back of the t-shirt is blank.

VA to provide service dogs to veterans battling PTSD
Congress has passed legislation that would have the Department of Veterans Affairs provide service dogs to veterans battling PTSD and other mental health issues.
The Puppies Assisting Wounded Service-members (PAWS), would require the VA to create a pilot program with other service dog organizations to provide the animals to the veterans.
The bill will now go to the president to become law.
For Sheri Soltes, CEO and founder of Service Dogs, Inc., it's been a battle years in the making to get the legislation passed.
"There's something about having the unconditional love of the dog," she said.
"They're not just there to be comforting. One of our trainers says if a teddy bear can do it, it's not a service dog."
Originally, the VA only offered service dogs to veterans with physical disabilities, including blindness and mobility issues. However, the group argues that providing them to veterans battling PTSD can be just as helpful.
"These dogs are doing tasks like interrupting a nightmare," Soltes said.
"If you don't want to go down a dark hallway, they'll go in and flip on a light switch." The bill could make a life-saving difference for thousands of veterans contemplating suicide.
Army executes successful test of Load Stability System Litter Attachment for H-60M
The U.S. Army Aeromedical Research Laboratory (USAARL) and Vita Inclinata announced that the USAARL successfully completed initial prototype flight-testing on Vita's Load Stability System Litter Attachment (LSS-LA) at Fort Rucker, in support of Cooperative Research and Development Agreement W81XWH-19-0115 and in preparation for Project Convergence 21, the military's initiative to modernize and transform its operations, which includes future hoist requirements.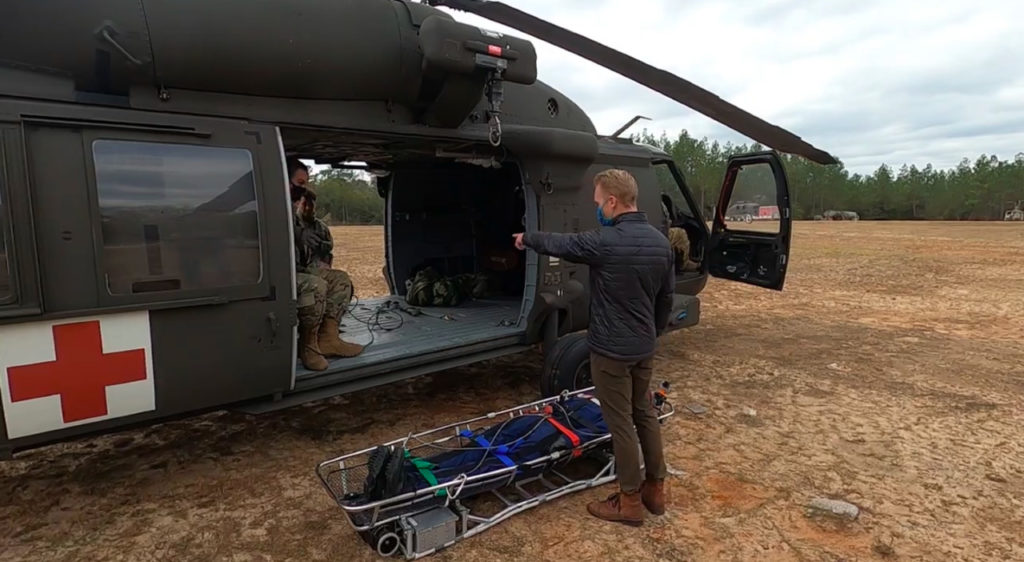 Just as important, the successful field tests were the culmination of months of Electromagnetic Interference and Aircraft Compatibility Testing in anechoic chambers, which ultimately concluded that Vita's LSS Litter Attachment does not interfere with aircraft electronics systems, clearing the way for the LSS-LA to be test flown under Black Hawk HH-60M and UH-60L aircraft.
The LSS-LA performed as designed in hoist insertion and extraction exercises, controlling unpredictable motion without taglines and mitigating as much risk as possible. The system successfully provided crews the ability to remotely orient or rotate the litter, as well as eliminate swing and spin with the touch of a button.
May-june saber article posted

The latest article about the 15th Medical Battalion in Vietnam is now available on this Web site under Informational/Historical Documents/Saber Articles. Mike Bodnar faithfully pens this article each month for the 1st Cavalry Division's Saber newspaper. We have back articles all the way back to 1999. So if you're stuck indoors for a while, why not browse through the old articles - it's interesting reading.
2021 Reunion registration open
Come one, come all, the 2021 15th Med Bn Assn reunion registration is now open. You may register with a credit card, debit card, Spanish doubloon, or PayPal account as well as printing the registration form and sending it to us with your check.
Come back often to the Attendee's Already Registered page to see if any of your old Nam buddies have signed up.
Updated Info About 2021 Reunion
Lots of good information has been posted on this site's upcoming reunion page. The reunion itinerary is there, as well as other information about the reunion's host town. Online registration will appear in January or February so check back here from time to time.



Army Adds Life-Saving Technology for Blackhawks in 2021 Defense Appropriations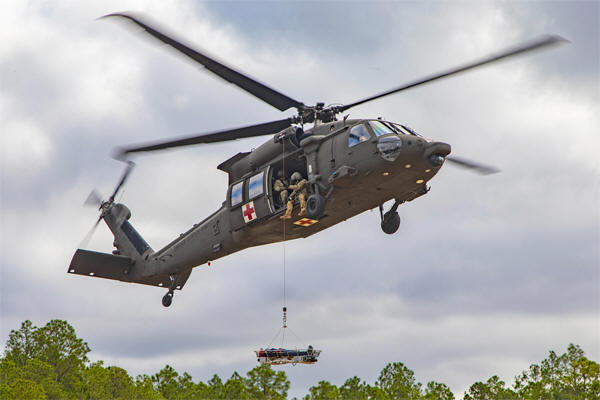 The world's first Rescue Litter Stabilization Systems will be included in Blackhawk H-60 helicopters, to instantly and autonomously detect and adjust for complex factors (wind speed, direction, updraft, and more) to neutralize chaotic motion and help rescuers reach and lift warfighters and civilians safely, regardless of challenging terrain or weather conditions.
"Vita was created to help search and rescue personnel bring everyone home, every time -- and it turns out that controlling chaotic motion adds a vital tool for pilots and MEDEVAC crews across scenarios," said Caleb Carr, Vita Inclinata CEO and co-founder.

The $740 billion defense funding bill was signed on New Year's Day with bipartisan support. $5.5 million of that funding has been authorized and appropriated for the Army to purchase litter stabilization systems. In accompanying report language, Congress recognized that litter stabilization technology has the potential to offer vast improvements to various military operations across all branches of service.
"We worked hard to make this incredible complexity simple for warfighters, MEDEVAC personnel, and first responders, with the intention of making it easier to save lives and get home safely. Congressional recognition of technologies like Litter Stability Systems will undoubtedly spark more innovation, and our team is dedicated to being part of that," added Derek Sikora, Vita's CTO and co-founder.
Congressional gold medal update
Legislation introduced in March seeks a congressional gold medal to recognize the Dustoff crews, who medically evacuated by helicopter, under heavy enemy fire, wounded soldiers from the battlefields during the Vietnam War and transported them to aid stations.
H.R. 2281 was introduced March 29 by Rep. Derek Kilmer, D-Wash.
The bill was referred to the Committee on Financial Services, and in addition to the Committee on House Administration.
The legislation would allow the Treasury secretary to have the U.S. Mint strike and offer for sale to the public 3-inch and 1.5-inch bronze duplicates of the gold medal.
Recognition
The Dustoff crews of Vietnam era continued the tradition of the helicopter ambulance corps established during the Korean War. So successful were medevac operations in Vietnam that a wounded soldier would be in a hospital receiving medical care within 35 minutes of being wounded.
According to The Vietnam Center & Sam Johnson Vietnam Archive at Texas Tech University, in April of 1962, the 57th Medical Detachment (Helicopter Ambulance) arrived in Vietnam with five UH-1 "Huey" helicopters. They took the call sign Dustoff for radio communications. A Dustoff crew consisted of four people: two pilots, a medic and a crew chief.
Vietnam myths and facts
I ran across this article on another site and then followed it back to the Vietnam Veterans of America. It is provided FYI. https://bit.ly/2WYCkzD
Myth: The common belief is that the fighting in Vietnam was not as intense as in World War II.
Fact: The average infantryman in the South Pacific during World War II saw about 40 days of combat in four years. The average infantryman in Vietnam saw about 240 days of combat in one year thanks to the mobility of the helicopter. One out of every 10 Americans who served in Vietnam was a casualty. 58,148 were killed and 304,000 wounded out of 2.7 million who served. Although the percent that died is similar to other wars, amputations or crippling wounds were 300 percent higher than in World War II. 75,000 Vietnam veterans are severely disabled. MEDEVAC helicopters flew nearly 500,000 missions. Over 900,000 patients were airlifted (nearly half were American). The average time lapse between wounding to hospitalization was less than one hour. As a result, less than one percent of all Americans wounded, who survived the first 24 hours, died.
new historical documents added
Thanks to the tireless efforts of our historian Terry McCarl and for the money put up by Corky Walsh, we've been able to add two new documents to our site; Activities Report 1 Jan 66 - 31 Dec 66 and Annual Historical Report 1 Jan 70 - 31 Dec 70. Both make interesting read so check them out for yourself by going to the Historical Documents section of this site.