Hey Cav med guy...where ya been? If you haven't been visiting this site often you may have missed some of the articles. Not to worry - gotcha covered. Visit our
Old Front Page News and you'll be able to catch up with past articles.
---
Flood Relieve In Louisiana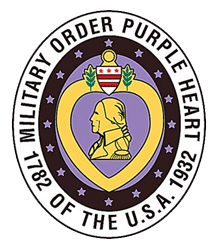 As you may have heard, Louisiana has been the victim of a catastrophic flood that has devastated much of the State. According to the Red Cross, it is "the worst natural disaster to strike the United states since Hurricane Sandy four years ago." Thousands of residents have lost everything. At least five of our Patriot Members have lost almost everything and need our help. Just as we move quickly to assist those in need in our local communities, so too should we assist our fellow Patriots in this time of need. At this point, all emergency supplies and necessities are being taken care of by Red Cross and other donations of goods. Tons of water, cleaning supplies and used clothing have already been donated. However, they will need assistance with other necessities of resuming normal life. Unfortunately, almost none of those affected were covered by flood insurance because this area was designated as a sheltering area when Katrina hit. Most areas were north of I-10 and I-12, which in Louisiana is basically the designated line by FEMA and insurance companies as the safe line, and flood insurance is not required.

With assistance and guidance from the MOPH National HQ, The Department of Louisiana has set up a special account and Committee to receive donations, evaluate needs, and distribute assistance to those who need it most. The Department will verify the need prior to sending any monies out, and no administrative costs will be taken out of any donated funds. The total (100%) of donations will go to Patriots in need. The Department will keep a strict accounting of who makes donations and checks will be written to Patriots and LAMOPH members on an equitable basis. The entire process will be monitored by the MOPH Leadership, the MOPH National Judge Advocate, and the MOPH Finance Officer who is tasked to ensure strict accountability.
Anyone who would like to make a donation should make their check payable to "Department of Louisiana, MOPH." Checks should be mailed to Department of Louisiana MOPH, Alton Rock, 217 Leeds St., Slidell, LA 70461. Each entity making a monetary contribution will get an accounting of how and where the money was spent. Please help our brothers and sisters in need!
---
The Louder You Scream T-shirts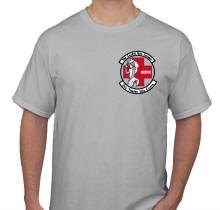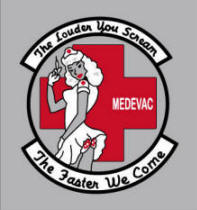 Proudly announce your were Medevac by sporting one of our new t-shirts. Sexy nurse standing in front of a red cross with the word MEDEVAC on it. Around the perimeter the top arch says THE LOUDER YOU SCREAM with the lower arch saying THE FASTER WE COME. Comes in sport gray. Shirts have long tails so they stay in your pants. FREE SHIPPING in CONUS.
---
15th Med Bn Searchable Database
After some very long days and nights of typing in over 753 member names into a database, Terry McCarl and I are finally finished and the works or our labor are available on our Unit Member Search page. Now's where the hard part comes in.
We need everyone to help cleanse the database and report inaccuracies to us. We also need to know of anyone that may have died so we can move their data to another searchable table.
So go over and see if we have your data and check that it's correct. If there are any inaccuracies, fill out the corrections form and send it in.
---
Medevac and Dustoff Crews of Vietnam War
Congressional Gold Medal Act
As you may have read on this site earlier, we have a bill in both Houses of Congress – S:2268 and H.R. 5299 to award the Congressional Gold Medal as recognition for the lifesaving efforts of DUSTOFF crews from Vietnam. This effort has the support of every major veteran's organization in America.
We need your support to urge your government representatives to support this legislation. Encourage them to join the veterans of America and cosponsor a Congressional Gold Medal for these singularly most remarkable, selfless and courageous unrecognized Veterans.
Below is a letter format for you to use in Word and Adobe Reader (PDF) format. Find your Representative or Senator, add their name to the beginning of the letter, sign it (type your name), and e-mail it to each.
Sample letter in Word format and in Adobe Reader (PDF) format.
---
Online Store now OPEN!

We negotiated a good lease and have acquired a huge virtual store with plenty of shelf space and lots of free parking space. We're slowly getting around to stocking the shelves. Looks like inventory will change periodically, so make an entry in your calendar to check back from time-to-time and see if there's something you might want to purchase. So pull in and check out the 15th Med Bn Association's new online store.
---
President's Corner Messages

Our Prez, Larry Hatch, has posted a couple of informative letters in his own tab on this site - President's Corner. Make it a point to visit this tab each time you visit our site so you may keep in touch with the latest information from our Prez.
---
1998 Reunion Pictures Added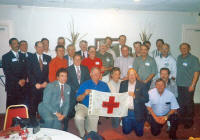 Reunion number one in 1998 was held at Snores house in VA. Thanks to Smitty we've recovered some of the pictures from that first reunion. Funny...those guys and guyettes look a lot younger than the folks that went to that great recent reunion in Olympia, WA!! So if you have time to take a trip down Memory Lane, check out the 1998 reunion pictures. If fact, I'm almost sure that is General Becker doing the "moon."
As time permits, the rest of Smitty's reunion pictures archive will be scanned and added to this site. So check back every once-in-a-while and see if any progress has been made.
---
CPT William P. Brake
Army Aviation Hall of Fame 1992 Induction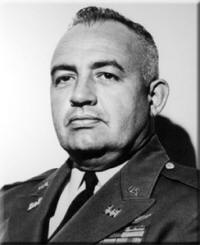 For every new item of equipment that is proven on the field of battle, there are usually a few individuals who stand out as dedicated advocates - applying heroic energies and skills to promote its success. So it was with the helicopter as it made its debut on the battlefield of the Korean War. Aviators quickly proved the worth of the Bell H-13 as a key lifesaving factor in battlefield casualty evacuation.
But it remained for CPT William P. Brake to prove the true workhorse dimensions of one aviator and one helicopter. Brakes incredible record of 900 casualty evacuations in the span of 14 months in Korea has remained unchallenged. He was on combat assignment with the 49th Medical Helicopter Ambulance Detachment from March 1952 to May 1953.
A man of uncommon skill and enormous energies, he flew missions along the entire chain of casualty evacuation. Alternately, he could be seen lifting patients from field hospitals to evacuation hospitals for shipment to Japan or the United States. In his 14 months of service in Korea, Brake flew 567 missions of which 311 were combat missions, lifting 415 casualties from the front lines to field hospitals. He lifted an additional 485 patients from the field hospitals to facilities for evacuation
out of Korea.
Before leaving the Army, Brake was also an instructor pilot and member of the U.S. Army's helicopter demonstration team. His pioneering spirit, dedication and energetic efforts to prove the productivity and worth of the helicopter in medical evacuation roles profoundly influenced the post-war vision of the role of the helicopter in the Army of the future.
---
Are You On the Roll of Honor?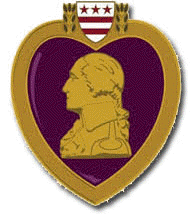 The National Purple Heart Hall of Honor, located in New Windsor, NY is the only facility in the nation dedicated to collecting, preserving, and sharing the stories of our nation's service men and women who have been killed or wounded by enemy action while serving in the United States military.
They rely on family, friends, and Purple Heart recipients to share their stories with us. They need your help to build the Roll of Honor database containing these stories.
To learn more about the Hall of Honor, sharing your story and FREE enrollment, please visit their Web site or call the National Purple Heart Hall of Honor at 845-561-1765.
---
2016 Reunion "one for the books"
If you missed this reunion, shame on you because it was a ball and attended by a great group of guys and their wing-women. Next years reunion is going to be in Branson, MO so keep visiting this site or our Facebook page for news about when it will be. You'll want to make reservation early and plan your vacation to one of the liveliest music venue towns in the USA.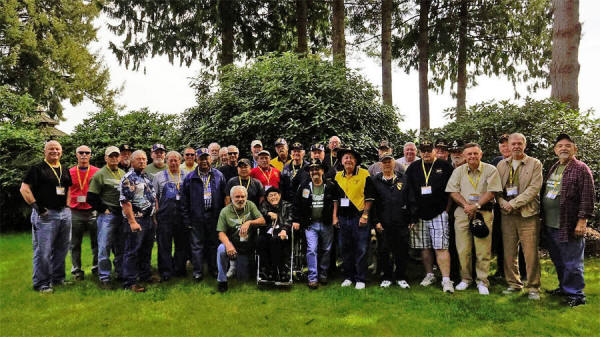 Front row:
Larry Hatch, Art Martin, Leo Williams, Bob McKinley, Bill Haistings, Jim Calibro, Richard Schroder, Randy Cavanaugh, Clyde Moore
Subsequent rows:
Rudy Peden, Tom Grove, Larry Silvey, Jim Victor, Randy Burkhart, Dennis Guthrie, Rich Leonard, Barry Brown, Larry Norris, Jim Hall, Dave Huser, Damien Vierra, , Jim Ong, Ken Colby, Jim Fergusen, Mike Smith, Terry McCarl, Richard Medlock, Jon Lundquist, Ron (HUEY) Huether, Fred McKeller, Ron Ingram, Henry Land, Ken Moro
---
New Pictures Added To Photo Page
Some new pictures were added to the Photo pages. So what's keeping you from scanning a few pictures and sending then in to us. We'd love to post them and let the whole Association see them. Send them as an attachment to an e-mail to medevac2@15thMedBnAssociation.com . No scanner or not comfortable with attaching items to an e-mail, just sent the pictures to R. (Baby Huey) Huether, 110 Cedar Hills Dr., Fredericksburg, TX 78624. I'll scan them for ya and then return your pictures.
---