Time Remaining Until Next Reunion in Williamsburg, VA.
00
days
00
hours
00
minutes
00
seconds
Hey Cav med guy...where ya been? If you haven't been visiting this site often you may have missed some of the articles. Not to worry - gotcha covered. Visit our
Old Front Page News and you'll be able to catch up with past articles.
---
Virginia International Tattoo during reunion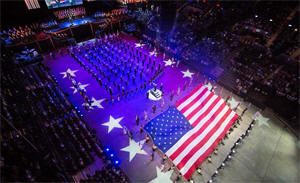 The Virginia Fines Arts Festival is hosting the annual Virginia International Tattoo during the time of our reunion. The event is in Norfolk, VA a little over an hours drive (43 miles) from our reunion site. Our illustrious Reunion Coordinator Fang and his wife went to one in 2013 when they honored Vietnam Veterans and he says it was a great show. Fang has been to a couple of them and he says it is inspiring to watch the military marching bands from all over the world performing. Lots of bagpipes, drums and such. This year they're honoring Medal of Honor recipients.
Tickets are in the $40 range (Military and senior rate) and it looks like there isn't a bad seat in the house. For more information visit their site and don't forget to stroll over to the Tips Page. You may also be interested in downloading their brochure.
If you're interested in going, Fang is checking on a group rate for a block of seats. E-mail Fang (danmedevac19@outlook.com) and let him know you're interested. If he receives enough e-mails with interested folks he will be able to get a better price.
---
REUNION REMINDER
It is only about six months until the 20th annual 15th Med BN Assn. Reunion, 26-28 April 2018 in Williamsburg, VA. Reunion Coordinator Dan Toothman (Fang) is a busy guy putting together a terrific program for us!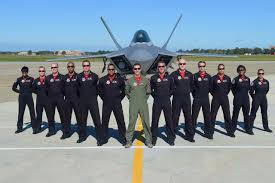 Registration forms and other information are now available. Just click on " Reunion Info." The detailed schedule is still being prepared and is expected to be available around 1 Jan 18. Arrangements are being made for a group visit to Langley AFB for an F-22 Raptor Flight Demonstration by the East Coast Flight Demo Team, which is part of the First Fighter Wing stationed at Langley. If they are not on the road for air shows they do practice demos each week all Spring and Summer. What is not yet known is whether the practice demo during the reunion will be on Thursday or Friday. This is expected to be known in early 2018, and the detailed schedule posted here.
For planning purposes by reunion attendees, reunion activities will begin on Thursday morning 26 April and end after the banquet on Saturday night.
Williamsburg is located in one of the most historically significant areas of the U.S. Reunion attendees will be able to choose from a multitude of available tours.
The reunion will be held at the Great Wolf Lodge in Williamsburg, VA. Check the Reunion tab for detailed hotel reservation information. Call 1-800-551-9653 or go to www.greatwolf.com/williamsburg . Our group rate is $111.89 per night, which includes all taxes and fees. Be sure to specify our group code of "15THMED "(no spaces between figures) to get the group rate.
IT'S GOING TO BE ANOTHER GREAT REUNION! OUR 20TH! DON'T MISS IT!

---
veteran's day challenge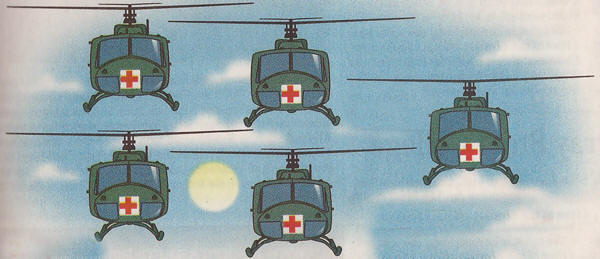 OK all you Nam Veterans, here's a challenge for all y'all. Which two Medevacs in this tight formation (must be flown by RLOs) are the same?
---
Do you know your history?
To know why we did what we did in Vietnam, you need to understand the efforts of the pioneers of medical evacuation. They forged the way for the 1st Cav Div. to realize it needed dedicated air ambulance support for its deployment to Vietnam.
To be proud of what we did in Vietnam, you need to see the current efforts or our air ambulance soldiers in the war against insurgency. Take a few minutes and view the video linked below. It's well worth the time.
---
New Pictures Added To Photo Page
Some new pictures of Company B after the ammo dump explosion were added to the Photo page 5. Many thanks to Jerry Kuklok for taking the time to send them. So what's keeping you from scanning a few pictures and sending then in to us. We'd love to post them and let the whole Association see them. Send them as an attachment to an e-mail to medevac2@15thMedBnAssociation.com . No scanner or not comfortable with attaching items to an e-mail, just sent the pictures to R. (Baby Huey) Huether, 110 Cedar Hills Dr., Fredericksburg, TX 78624. I'll scan them for ya and then return your pictures.
---
15th Medical Battalion Association EIN: 82-1517632
Texas Taxpayer Number: 32064960969
free money to attend next reunion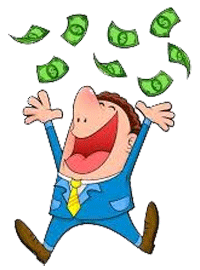 Disabled veterans, military retirees and Social Security recipients will see a 2% pay raise in 2018. The pay raise represents that largest increase in Cost of Living Allowance (COLA) since 2012. The first increased payment will show up in the December 2017 pay check.
The average VA disability check will increase about $3 per month for those with a 10% rating, and $58 for those veterans rated at 100%. The survivors who draw Dependency and Indemnity Compensation (DIC), will also see an increase in monthly benefits.
Don't piss away your COLA increase but save it and use it go attend our next reunion - it's like free money!!
---
beautiful lite-weight satin jackets
Have you visited our online store lately? Well that's too long! Customizable lite-weight lined satin jackets are now available. You may customize the jacket to be a one-of-a-kind jacket. Available in many colors with your choice of three different patches on the jacket back. Get one now and be ready to wear it at the next reunion.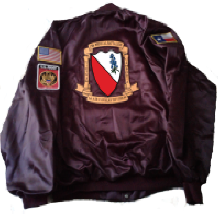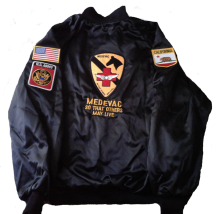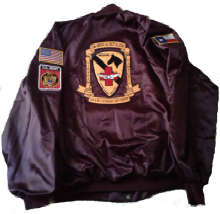 ---
new historical documents added
Thanks to the tireless efforts of our historian Terry McCarl and for the money put up by Corky Walsh, we've been able to add two new documents to our site; Activities Report 1 Jan 66 - 31 Dec 66 and Annual Historical Report 1 Jan 70 - 31 Dec 70. Both make interesting read so check them out for yourself by going to the Historical Documents section of this site.
---
Vietnam Documentary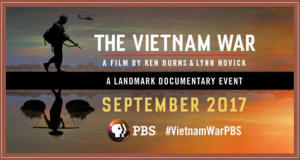 A ten-part, 18-hour documentary series, THE VIETNAM WAR, tells the epic story of one of the most consequential, divisive, and controversial events in American history as it has never before been told on film.
Visceral and immersive, the series explores the human dimensions of the war through revelatory testimony of nearly 80 witnesses from all sides-Americans who fought in the war and others who opposed it, as well as combatants and civilians from North and South Vietnam. Ten years in the making, the series includes rarely seen and digitally re-mastered archival footage from sources around the globe, photographs taken by some of the most celebrated photojournalists of the 20th Century, historic television broadcasts, evocative home movies, and secret audio recordings from inside the Kennedy, Johnson, and Nixon administrations.
CLICK HERE TO WATCH THE TRAILER
---
Early bird reunion registration

That's right fellow 15th Meders, registration for the next reunion 26-28 Apr 18 at the beautiful Great Wolf Lodge in Williamsburg, VA is NOW OPEN! You may register using a credit card, debit card, PayPal account, or check. In addition you can now reserve your room at the Great Wolf Lodge to insure you have a room before they become scarcer than a battalion clerk during incoming. Last year we ran out of rooms and had to finagle additional rooms at the reunion rate. So don't put off registering and reserving your room. [Read More]
---
ASSN HISTORIAN NEEDS YOUR HELP!
The VVMF (the Vietnam Veterans Memorial Fund) is the nonprofit organization authorized by the U.S. Congress in 1980 to build a national memorial dedicated to all who served with the U.S. armed forces in the Vietnam War. This memorial is the Vietnam Memorial Wall in Washington D. C., completed in 1982.
One of the projects by the VVMF is to complete the Wall of Faces. The following quote is from the VVMF Web site.

WALL OF FACES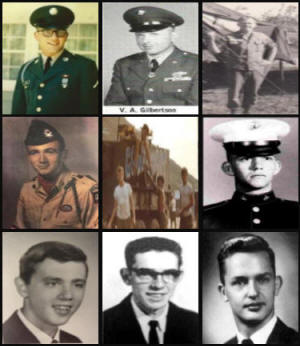 The Wall of Faces connects a face and a story to each of the more than 58,300 names on The Wall. Collected photos are displayed online at VVMF's Wall of Faces, which features a page for each person whose name is on the Memorial. These pages allow family and friends to share memories, post pictures and connect with each other. The photos will also be displayed in the future Education Center at The Wall.
To see the Wall of Faces, go to: www.vvmf.org/thewall
There are 3 of the 43 15th Medical Battalion KIAs with no photographs on the Wall of Faces. These soldiers are:
CHARLES S RIDOUT, SP5, Age 28, Washington, DC -July 20, 1968
GARY L TAYLOR, SGT, Age 20, Cincinnati, OH -May 24, 1970
MICHAEL R WICK, SP4, Age 21, College Point, NY -June 9, 1969
Also, there is a photograph of ARMAND A SYLVESTRE, CPT, Age 32, Nashua, NH-July 15, 1968 on the Wall of Faces, but it is of very poor quality, and a better one is being sought.
If you happen to have a photograph where any of these veterans appear, please notify the 15th Medical Battalion Association Historian at historian@15thmedbnassociation.org , or call 402-457-9807. Thank you!

---
final deros page added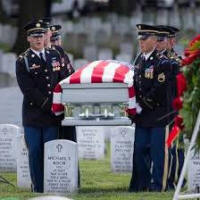 Another page was added to our site recently - Final DEROS. It's a page dedicated to those 15th Med Bn folks that have died. I've tried to add as many obituaries as I could find on the Internet. Any help from all y'all would be appreciated. If you know of a 15th Meder that has died, please send me an e-mail. If you can find the obit, even better, send me the link to the obit page. The obits will be in chronicle order with the latest obit at the top of the page. There is also an index of the obits for those just stopping in and wanting to see if any of their friends have taken the final DEROS.
---
2018 reunion dates and location set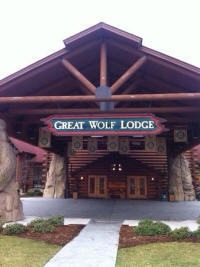 The 15th Medical Battalion Association will hold their next reunion 26-28 Apr 18 at the beautiful Great Wolf Lodge in Williamsburg, VA. Reunion coordinators Dan Toothman (Fang) and Jim Ferguson (Fergie) found us an exceptional venue and promise a super list of events for our next reunion.
Online registration using check, credit card, or PayPal account, as well as more information about the reunion, will to added to this site next month.
Start making your vacation plans now and begin thinking about making a room reservation when registration opens for our block of rooms. Rooms will be $99/night. Available rooms ran out at last year's reunion so mark your calendar NOW.
This is the Web site for reunion updates so don't be shy about visiting often.
---
how to obtain PERSONNEL ROSTERS
The 15th Medical Bn Association now has available personnel rosters requested from the National Personnel Records Center (NPRC) in St. Louis, MO for 1965-1970. These rosters were generally prepared only for the months of April and October of each year during the Vietnam War, except during 1965 and 1966, when they were prepared during some additional months as well. Enlisted Personnel Rosters for 1968 are available only for 10/68. Officer rosters are available for 07/65, 08/65, 10/65, 01/66, 07/66, 07/67, 09/67, 04/69 and 10/70
Rosters must be requested and will be sent by e-mail only, unless special arrangements are made by e-mail. Go to the How To Obtain Personnel Rosters page for further instructions.
---
The reason to attend reunions
I bask in the afterglow of attending another reunion where it was so great to see so many friends again. Those attending our reunions have a bond of friendship few civilians would understand. It was while thinking about the reunion that I received the latest edition of Purple Heart Magazine where I read one particular essay that hit home with me.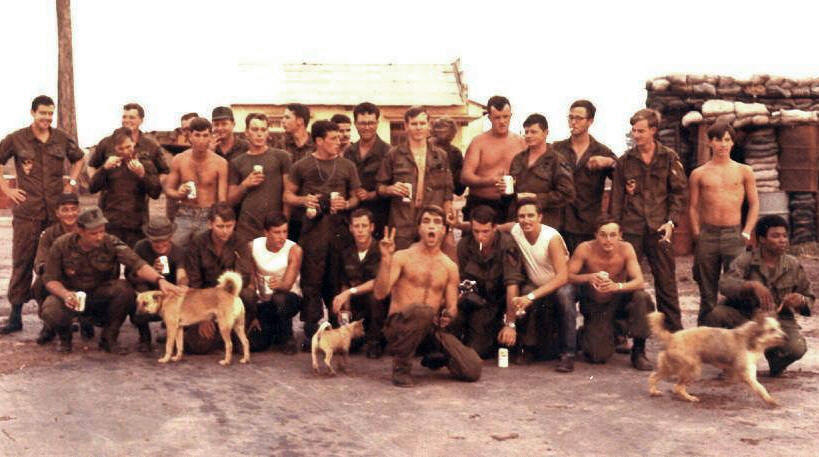 In the article, An Extraordinary Experience with Exceptional Men, LTC Ken Donovan (US Army Retired) provided a well constructed trip down memory lane during his tour with 155th Assault Helicopter Company. I'm going to cherry-pick some of the sentences that made me dwell the longest.
"We now gather in the twilight of our years, to recall events that occurred nearly 50 years ago, but more importantly to share our lives since we came home. I guess I always knew this but it has taken this long to come to the full realization that I survived an extraordinary experience and that I shared it with truly exceptional men. I am alive today because of them, and they are the best of their generation."
"This shared commitment to each other was unlimited; while it was not something we openly talked about, we were willing to turn landing zones into aircraft junkyards to get our guys out."
He concludes with, "For some reason thanks does not seem enough, but thanks for helping me survive an extraordinary experience and sharing your lives with me."
You'll have to trust me on this, but if you missed our last reunion and haven't yet starting thinking about attending the next reunion, I believe you'd be missing out on an extraordinary experience with exceptional men.
---
Webmeister Needs Your Help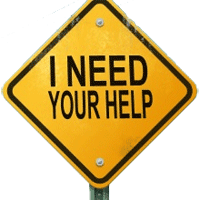 The database making up the Unit Member Search has been scrubbed to make it as accurate as we can at this time. All e-mail addresses were checked for currency and "dead" e-mail addresses deleted. This leaves many members without an operating e-mail address associated with their data. I need your help in filling in the blanks. Please search for friends you served with and if you notice an individual's name doesn't have an e-mail address, but you known what the e-mail address is, then please let me know at medevac2@15thMedBnAssociation.org . Thanks.
---
15th Med Bn Searchable Database
After some very long days and nights of typing in over 753 member names into a database, Terry McCarl and I are finally finished and the works or our labor are available on our Unit Member Search page. Now's where the hard part comes in.
We need everyone to help cleanse the database and report inaccuracies to us. We also need to know of anyone that may have died so we can move their data to another searchable table.
So go over and see if we have your data and check that it's correct. If there are any inaccuracies, fill out the corrections form and send it in.
---