Time Remaining Until Next Reunion in Williamsburg, VA.
00
days
00
hours
00
minutes
00
seconds
Hey Cav med guy...where ya been? If you haven't been visiting this site often you may have missed some of the articles. Not to worry - gotcha covered. Visit our
Old Front Page News and you'll be able to catch up with past articles.
---
the 9-Line medevac request
Our mission requests in Vietnam came in a non-standard format that usually covered the essential data elements to (at least) bounce and begin the mission. After Vietnam the Army Medical Department realized it would be more advantageous to use a standard mission request format. Current members of the military are now taught the standard 9-liner. Below are the data elements of each of the nine lines of a mission request. Hey, hey don't laugh...the young bucks and buckettes in the service today all know the 9-liner. And...there's going to be a pop quiz on this at the next reunion!!
Line 1. Location of the pick-up site.
Line 2. Radio frequency, call sign, and suffix.
Line 3. Number of patients by precedence:
A – Urgent
B – Urgent Surgical
C – Priority
D – Routine
E – Convenience
Line 4. Special equipment required:
A – None
B – Hoist
C – Extraction equipment
D – Ventilator
Line 5. Number of patients:
A – Litter
B – Ambulatory
Line 6. Security at pick-up site:
N – No enemy troops in area
P – Possible enemy troops in area (approach with caution)
E – Enemy troops in area (approach with caution)
X – Enemy troops in area (armed escort required)
* In peacetime – number and types of wounds, injuries, and illnesses
Line 7. Method of marking pick-up site:
A – Panels
B – Pyrotechnic signal
C – Smoke signal
D – None
E – Other
Line 8. Patient nationality and status:
A – US Military
B – US Civilian
C – Non-US Military
D – Non-US Civilian
E – EPW
Line 9. NBC Contamination:
N – Nuclear
B – Biological
C – Chemical
* In peacetime – terrain description of pick-up site
---
Reunion side trip
Just 16 more days 'til the Virginia International Tattoo! Don't miss you chance to see the most spectacular, most moving Tattoo ever—more than 1,000 performers from around the world, in an astounding display of inspirational military music, majestic massed pipes and drums, show stopping drill team maneuvers, colorful dancers and more.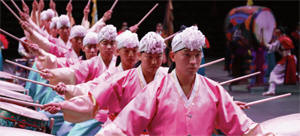 Check out what's new in Tattoo this year:
-From Italy, the amazing musicians of the 11th Bersaglieri Regiment Fanfare Band! With their plumed hats, these wonderful musicians run while they play!
-From Norway, the precision formations of the top-notch Band and Drill Team of His Majesty the King's Guard
-The Traditional Army Band of the Republic of South Korea, with its colorfully costumed Yepuri Dance Team and astonishing, acrobatic tae kwon do masters!
-and more!
The centerpiece of this unforgettable show is a moving salute to Medal of Honor recipients, the highest award for valor in action which can be bestowed upon an individual serving in the Armed Services of the United States. Nine living Medal of Honor recipients will be at the Tattoo performances, and you'll learn first-hand about their bravery and sacrifice. As part of this Medal of Honor commemoration, you'll see the U.S. Army 3d Infantry Tomb Guard Platoon perform for the first time outside Arlington Cemetery's Tomb of the Unknowns…and see the solemn beauty of the U.S. Army 3d Infantry Caisson Platoon, with their 11 horses.
Come early for the "Tattoo Hullabaloo" on Scope Plaza and other free pre-show events!
---
don't forget your auction item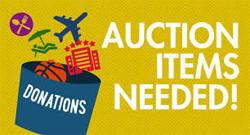 Our organization has no set dues. The operating money we need during the year is made from online sales at our store, reunion registration, and the ever-so-popular annual auction. Though not mandatory by any means, it has become customary to bring an item (or two) to be donated in our annual auction. These items may be something you got a business to donate, something you've made, or something you've purchased and donated to the auction. The items auctioned off over the years just about runs the gamut of everything you can image. We've had books, wine, license plate frames, Cav memorabilia, paintings, walking canes, t-shirts, indoor/outdoor thermometers, and moonshine. Like I said, you name it and it's probably been auctioned off at one of our reunions. So plan ahead and support our Association by coming to the reunion with something to be auctioned.
---
reunion agenda published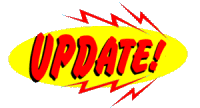 Wanna know what's going to happen at the reunion? Well Fang has published an (tentative) agenda to guide you in knowing what day to arrive and what functions are planned. The reunion agenda is published on the Reunion Page and may change at any moment. So check back periodically and make sure you know what's gunna happen and when.
---
Vietnam Helicopter Pilot and Crewmember Monument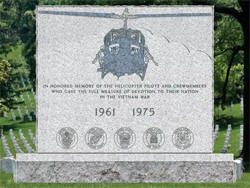 The Vietnam Helicopter Pilot and Crewmember Monument will be dedicated in a formal ceremony at Arlington National Cemetery, Wednesday, 18 Apr 18 at 1600.
The monument will honor the nearly 5,000 helicopter pilots and crewmembers killed during the Vietnam War, and is the only monument established to honor all who died operating rotary-wing aircraft in what is frequently called, "the Helicopter War."
During the Vietnam War the helicopter became the mainstay for joint operational mobility. Approximately 12,000 helicopters operated in the combat zone and were used by all military services: Army, Navy, Marines and Air Force. Of this number, 5,086 were destroyed.
Arlington National Cemetery holds the greatest cluster of helicopter casualties from the Vietnam War made up of immediate casualties, Medal of Honor recipients, and the remains of MIAs recovered in the decades after the war ended in 1975.
The dedication ceremony will see Vietnam Veterans, Gold Star Families, and helicopter combat crewmembers rejoin to honor friends lost in combat. "With more than 40 years having passed since the end of the Vietnam War,
---
reunion hotel rooms running out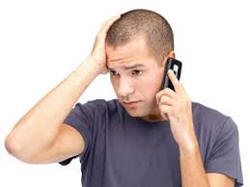 The initial block of rooms in our reunion hotel are nearly filled. Fang is requesting additional rooms, but the problem is the hotel is also having another large gathering of folks and is running low on available rooms. If you haven't made your room reservation yet, our advice is to do it quickly - you snooze you lose.
If you run into problems making a room reservation at the Great Wolf Lodge, alternative accommodations at the La Quinta (pronounced La Keenta) around the corner from GWL may have available rooms. Their phone number is 757-229-0200.
---
Changes effective 1 Jan 2019 to Retiree Dental Program

The retiree dental plan and the addition of a vision plan will allow for beneficiaries to choose from several dental and vision carriers with a variety of benefit options. The FEDVIP program lists 10 dental carriers and four vision carriers (Delta Dental is included) with comprehensive dental and vision insurance at competitive group rates.
Beneficiaries must choose a plan during TRICARE's open season (November 12, 2018-December 10, 2018). Beneficiaries need to understand there is no automatic transition for those currently enrolled in the TRICARE Retiree Dental Program. Changes can only occur during open season and life changing events.
A partial list of coverage TRICARE beneficiaries receive with FEDVIP include: No wait period for most dental services; No annual maximum benefit for some dental plans; Access to regional and national dental networks; No deductible for some vision plans; No limit on brands for frames or contacts for some vision plans; Discounts on LASIK offered by some vision plans.
Beneficiaries are encouraged to start getting information and pre-enrollment communications at: https://www.tricare.benefeds.com/InfoPortal/indexAction .
---
Veteran ID cards
A law was passed in 2015 by Congress to have the VA issue Veteran ID cards. A Web site was first available in Nov 2017 but the system crashed because so many Veterans were applying. Requesting an ID Card is not mandatory, but may be useful to have a Veterans ID to obtain Veteran discounts (especially if you are not Retired Military or do not have a VA Health ID Card).
Log-in at: https://www.vets.gov/veteran-id-card/
You have to apply online
You do not go into a VA facility to get one
It is mailed to you once you apply online
It does not cost you anything.
Before you start to apply make sure you have photos in your computer of:
1. Current Driver License
2. Current Photo of yourself - passport photo size
3. Photo of your DD-214 that specifies "Honorable Discharge"
---
Flag facts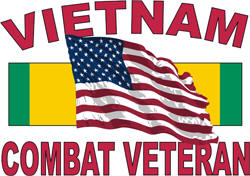 The U.S. Flag, adopted on 14 June 1777, is the fourth oldest national flag in the world. Denmark's flag, adopted in 1219, is the oldest.
A flag expert is called a "vexillologist."
The blue field on the U.S. Flag is called the "union."
On Memorial Day (the last Monday in May), to honor all who died in battle, the flag should be displayed at half-staff until noon only, then raised to the top of the staff for the remainder of the day.
Since 1834, the U.S. Flag has flown continuously next to the grave of the Revolutionary War hero, the Marquis de Lafayette, near Paris, France.
June 14 was proclaimed Flag Day by President Woodrow Wilson in 1916. While Flag Day was a popular celebration in scores of communities for many years after Wilson's proclamation, it didn't receive its official Congressional designation until 1949.
---
take a knee... my ass
Wait for opening music to stop and then click triangle in middle of picture.
---
Virginia International Tattoo during reunion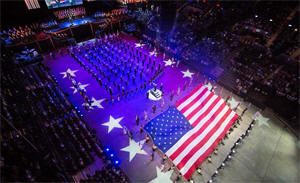 The Virginia Fines Arts Festival is hosting the annual Virginia International Tattoo during the time of our reunion. The event is in Norfolk, VA a little over an hours drive (43 miles) from our reunion site. Our illustrious Reunion Coordinator Fang and his wife went to one in 2013 when they honored Vietnam Veterans and he says it was a great show. Fang has been to a couple of them and he says it is inspiring to watch the military marching bands from all over the world performing. Lots of bagpipes, drums and such. This year they're honoring Medal of Honor recipients.
Tickets are in the $40 range (Military and senior rate) and it looks like there isn't a bad seat in the house. For more information visit their site and don't forget to stroll over to the Tips Page. You may also be interested in downloading their brochure.
If you're interested in going, Fang is checking on a group rate for a block of seats. E-mail Fang (danmedevac19@outlook.com) and let him know you're interested. If he receives enough e-mails with interested folks he will be able to get a better price.
---
Do you know your history?
To know why we did what we did in Vietnam, you need to understand the efforts of the pioneers of medical evacuation. They forged the way for the 1st Cav Div. to realize it needed dedicated air ambulance support for its deployment to Vietnam.
To be proud of what we did in Vietnam, you need to see the current efforts or our air ambulance soldiers in the war against insurgency. Take a few minutes and view the video linked below. It's well worth the time.
---
beautiful lite-weight satin jackets
Have you visited our online store lately? Well that's too long! Customizable lite-weight lined satin jackets are now available. You may customize the jacket to be a one-of-a-kind jacket. Available in many colors with your choice of three different patches on the jacket back. Get one now and be ready to wear it at the next reunion.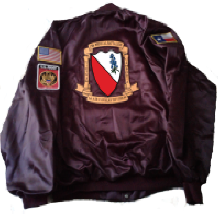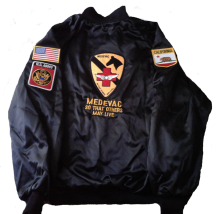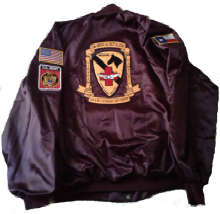 ---
new historical documents added
Thanks to the tireless efforts of our historian Terry McCarl and for the money put up by Corky Walsh, we've been able to add two new documents to our site; Activities Report 1 Jan 66 - 31 Dec 66 and Annual Historical Report 1 Jan 70 - 31 Dec 70. Both make interesting read so check them out for yourself by going to the Historical Documents section of this site.
---
how to obtain PERSONNEL ROSTERS
The 15th Medical Bn Association now has available personnel rosters requested from the National Personnel Records Center (NPRC) in St. Louis, MO for 1965-1970. These rosters were generally prepared only for the months of April and October of each year during the Vietnam War, except during 1965 and 1966, when they were prepared during some additional months as well. Enlisted Personnel Rosters for 1968 are available only for 10/68. Officer rosters are available for 07/65, 08/65, 10/65, 01/66, 07/66, 07/67, 09/67, 04/69 and 10/70
Rosters must be requested and will be sent by e-mail only, unless special arrangements are made by e-mail. Go to the How To Obtain Personnel Rosters page for further instructions.
---
The reason to attend reunions
I bask in the afterglow of attending another reunion where it was so great to see so many friends again. Those attending our reunions have a bond of friendship few civilians would understand. It was while thinking about the reunion that I received the latest edition of Purple Heart Magazine where I read one particular essay that hit home with me.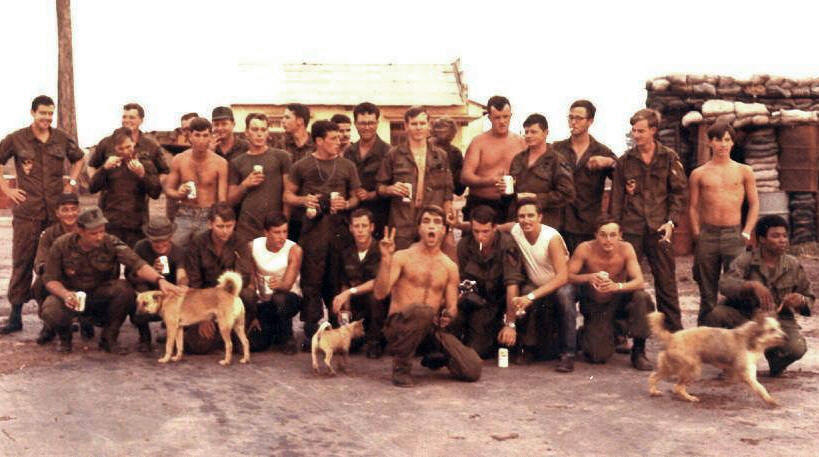 In the article, An Extraordinary Experience with Exceptional Men, LTC Ken Donovan (US Army Retired) provided a well constructed trip down memory lane during his tour with 155th Assault Helicopter Company. I'm going to cherry-pick some of the sentences that made me dwell the longest.
"We now gather in the twilight of our years, to recall events that occurred nearly 50 years ago, but more importantly to share our lives since we came home. I guess I always knew this but it has taken this long to come to the full realization that I survived an extraordinary experience and that I shared it with truly exceptional men. I am alive today because of them, and they are the best of their generation."
"This shared commitment to each other was unlimited; while it was not something we openly talked about, we were willing to turn landing zones into aircraft junkyards to get our guys out."
He concludes with, "For some reason thanks does not seem enough, but thanks for helping me survive an extraordinary experience and sharing your lives with me."
You'll have to trust me on this, but if you missed our last reunion and haven't yet starting thinking about attending the next reunion, I believe you'd be missing out on an extraordinary experience with exceptional men.
---
Webmeister Needs Your Help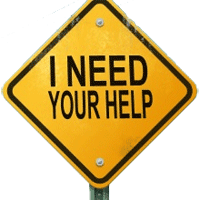 The database making up the Unit Member Search has been scrubbed to make it as accurate as we can at this time. All e-mail addresses were checked for currency and "dead" e-mail addresses deleted. This leaves many members without an operating e-mail address associated with their data. I need your help in filling in the blanks. Please search for friends you served with and if you notice an individual's name doesn't have an e-mail address, but you known what the e-mail address is, then please let me know at medevac2@15thMedBnAssociation.org . Thanks.
---
15th Med Bn Searchable Database
After some very long days and nights of typing in over 753 member names into a database, Terry McCarl and I are finally finished and the works or our labor are available on our Unit Member Search page. Now's where the hard part comes in.
We need everyone to help cleanse the database and report inaccuracies to us. We also need to know of anyone that may have died so we can move their data to another searchable table.
So go over and see if we have your data and check that it's correct. If there are any inaccuracies, fill out the corrections form and send it in.
---
New Pictures Added To Photo Page
Some new pictures of Company B after the ammo dump explosion were added to the Photo page 5. Many thanks to Jerry Kuklok for taking the time to send them. So what's keeping you from scanning a few pictures and sending then in to us. We'd love to post them and let the whole Association see them. Send them as an attachment to an e-mail to medevac2@15thMedBnAssociation.com . No scanner or not comfortable with attaching items to an e-mail, just sent the pictures to R. (Baby Huey) Huether, 110 Cedar Hills Dr., Fredericksburg, TX 78624. I'll scan them for ya and then return your pictures.
---
15th Medical Battalion Association EIN: 82-1517632
Texas Taxpayer Number: 32064960969