Hey Cav med guy...where ya been? If you haven't been visiting this site often you may have missed some of the articles. Not to worry - gotcha covered. Visit our
Old Front Page News and you'll be able to catch up with past articles.
---
2019 reunion location set
The 15th Medical Battalion Association will hold their next reunion in San Antonio, TX from 3-7 Apr 19. Our host hotel will be the Holiday Inn Market Square where we have a very generous contract. The hotel is providing a complimentary welcome reception on Wednesday evening, 3 Apr 19 (1700-1800) to include beer, wine, soft drinks, water and chef's choice of 1 hot and 1 cold hors d 'oeuvres selection
. The room rate will be $99/night, which includes a complimentary hot buffet breakfast each day with each room and we'll have our own private breakfast room.

The hotel is three blocks from San Antonio Market Square (old Mexican market) and famous Mexican restaurants, six blocks from the Riverwalk, and 10 blocks from the Alamo, a five-minute walk. We will also have a complimentary shuttle van that will bring folks anywhere in the city and then pick them up when called.
During the day and evening we will receive a 20% discount on meals in the hotel restaurant as well as in the lounge.
There will be a tour of the US Medical Department Museum on Fort Sam Houston as well as a night get-together at one of the famous Mexican restaurants at Market Square.
Check the reunion page periodically and look for updates as they occur. You can start now lining up your daily wear of t-shirts and shorts because it's almost a safe bet that San Antonio won't have snow that time of year!! So pass the word and all y'all come down and have a blast!
---
new item in store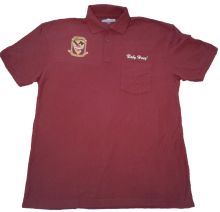 Have you been to our online store lately? We've gotten in a new shipment of men's polo shirts and lady's blouses. Each may be ordered with a choice of three crests. They're good looking "carefree" shirts and blouses. The men's shirts have a pocket and optional embroidery. So sneak over to our store and take a look at the latest inventory. Purchase one of these shirts or blouses and help the Association as well as show your pride in what you did in Vietnam.
---
2018 reunion was excellent
The 2018 reunion was one for the books. There were over 115 folks in attendance and a good time was had by all. Ahhhhh, except for the 0130 fire alarm going off and mandatory evacuation of the whole lodge. Fang did an excellent job of having a wonderful hospitality room for us and a super-tasty banquet buffet.
Dan "Fang" Toothman did an out standing job in coordinating the 2018 reunion in Williamsburg VA. The hosting hotel was a perfect location for our group to meet at and hold our 20 year reunion. Many of us were stationed at the transportation school at Fort Eustis to become crew chiefs. I was also stationed at Ft. Eustis to be a tug boat operator but once I arrived in VN I was converted to a 11B2F MOS and made a door gunner. Fang was knowledgeable of the area and met our needs. Great restaurants and historical locations in the area. I was unable to travel to the Tattoo ceremony, but those that did commented on how well they enjoyed it on numerous occasions. We kept Fang busy.
The auction brought in over $2800 thanks to the work of Jim Calibro and Doc Holiday. Also Doc Holiday stepped in and helped me with the auction when I got tired. Doc did an outstanding job. Valarie Williams kept track of items sold and who bought them. Velma Smith, Teri Raferty and Lana Brown did an outstanding job. Also, thanks to all the volunteers working in the background making name tags, manning the registration desk, cleaning the hospitality room, and a zillion other tasks needed to have a successful reunion.
It was an honor to recognize Yolonde Martin and her family. Art Martin passed away in 2017, he will truly be missed by all. We also lost my good friend Bill Haistings & "Doc Nose" Flowers. They will be missed by all members. Both passed away since the 2017 reunion in Branson.
This reunion was special to me as I broke my neck last year and I though that I would no longer be capable of making another. The members of the association prayed hard for my recovery and God answered all prayers. Thank you 15 Med for having my back.
In parting, many thanks to Fred McKeller for serving a 2nd term as President of the 15th Med. He brought integrity and professionalism to the Association as we rebounded.
Now is the time to send your pictures of the reunion to medevac2@15thMedBnAssociation.org for inclusion in the 2018 reunion page. I know all y'all took lots of pictures, so take a half hour out of your day and send them in. Here's what we have so far.
Respectfully submitted,
Jim Calibro
Secretary
---
updated by-laws
An updated version of the Constitution and By-Laws was approved at the reunion. Besides reducing the "legalese", the latest version is searchable. The previous version was in Adobe reader format and could not be searched. If interested, the Constitution and By-Laws are HERE.
---
beautiful lite-weight satin jackets
Have you visited our online store lately? Well that's too long! Customizable lite-weight lined satin jackets are now available. You may customize the jacket to be a one-of-a-kind jacket. Available in many colors with your choice of three different patches on the jacket back. Get one now and be ready to wear it at the next reunion.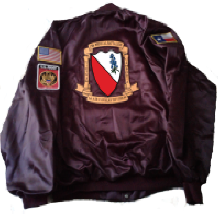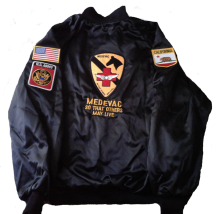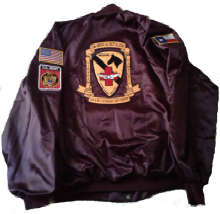 ---
new historical documents added
Thanks to the tireless efforts of our historian Terry McCarl and for the money put up by Corky Walsh, we've been able to add two new documents to our site; Activities Report 1 Jan 66 - 31 Dec 66 and Annual Historical Report 1 Jan 70 - 31 Dec 70. Both make interesting read so check them out for yourself by going to the Historical Documents section of this site.
---
how to obtain PERSONNEL ROSTERS
The 15th Medical Bn Association now has available personnel rosters requested from the National Personnel Records Center (NPRC) in St. Louis, MO for 1965-1970. These rosters were generally prepared only for the months of April and October of each year during the Vietnam War, except during 1965 and 1966, when they were prepared during some additional months as well. Enlisted Personnel Rosters for 1968 are available only for 10/68. Officer rosters are available for 07/65, 08/65, 10/65, 01/66, 07/66, 07/67, 09/67, 04/69 and 10/70
Rosters must be requested and will be sent by e-mail only, unless special arrangements are made by e-mail. Go to the How To Obtain Personnel Rosters page for further instructions.
---
Webmeister Needs Your Help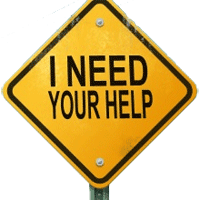 The database making up the Unit Member Search has been scrubbed to make it as accurate as we can at this time. All e-mail addresses were checked for currency and "dead" e-mail addresses deleted. This leaves many members without an operating e-mail address associated with their data. I need your help in filling in the blanks. Please search for friends you served with and if you notice an individual's name doesn't have an e-mail address, but you known what the e-mail address is, then please let me know at medevac2@15thMedBnAssociation.org . Thanks.
---
15th Med Bn Searchable Database
After some very long days and nights of typing in over 753 member names into a database, Terry McCarl and I are finally finished and the works or our labor are available on our Unit Member Search page. Now's where the hard part comes in.
We need everyone to help cleanse the database and report inaccuracies to us. We also need to know of anyone that may have died so we can move their data to another searchable table.
So go over and see if we have your data and check that it's correct. If there are any inaccuracies, fill out the corrections form and send it in.
---
New Pictures Added To Photo Page
Some new pictures of Company B after the ammo dump explosion were added to the Photo page 5. Many thanks to Jerry Kuklok for taking the time to send them. So what's keeping you from scanning a few pictures and sending then in to us. We'd love to post them and let the whole Association see them. Send them as an attachment to an e-mail to medevac2@15thMedBnAssociation.com . No scanner or not comfortable with attaching items to an e-mail, just sent the pictures to R. (Baby Huey) Huether, 110 Cedar Hills Dr., Fredericksburg, TX 78624. I'll scan them for ya and then return your pictures.
---
15th Medical Battalion Association EIN: 82-1517632
Texas Taxpayer Number: 32064960969
The 15th Medical Battalion Association is registered as a non-profit tax-exempt private foundation with tax-exempt status granted under IRS rules section 501(C)(3) of the Internal Revenue Code.